California is a beautiful state with lots to do and plenty to see. If you've been considering a move to the Golden State, you can choose from a handful of great areas. While many people flock to Los Angeles to chase after their dreams of fame and fortune, you may be looking for a more relaxed atmosphere.
If that's what you have in mind, you should consider moving to Santa Clarita instead.
Santa Clarita is a charming city in Los Angeles County. It is close enough to L.A. to participate in trendy events and activities, yet far enough where you can raise your children in a more tranquil environment. Santa Clarita is a favorite destination for many looking for a fun, yet relaxed, place to live.
From great places to eat to numerous outdoor activities, this town offers something for both families and singles alike. It has some great features that make it a highly enjoyable city. Here are ten things you need to know before moving to Santa Clarita.
1. Perfect for Cyclists
If you love cycling, you don't need to look much further than Santa Clarita. As a haven for cycling enthusiasts, it's a city where you can strap on your helmet, put in your headphones, get on your bike, and ride for miles without a care in the world. It has steadily become one of the most popular parts of living in Santa Clarita.
From street lanes to nature trails, this city has always been a place where cyclists are welcome. Santa Clarita is constantly installing new trails and paths, so if you're looking to live in a city where cycling is well received, don't hesitate to move here. There are even clubs you can join and occasional competitions in which you can participate.
2. A Hiker's Paradise
With multiple parks to choose from, there are several places where you can go hiking in Santa Clarita. Whether you want to enjoy a leisurely nature stroll with your kids or you would prefer a hike with rewarding views, there are options available for all ages.
From Piru Creek Trail to Weldon Canyon Trail, you can choose your level, lace up your hiking boots or running shoes and head down the path. If you're a nature lover, Santa Clarita is one of the best places to move in the Los Angeles County area.
3. Great Places to Eat
Who doesn't want to live in a city with great places to eat? With a variety of cafes and restaurants in Santa Clarita, you won't have to take a trip into Los Angeles for a great meal. There are plenty of great local spots for you to enjoy some great food.
With places like Egg Plantation and Lima Limon, there are several options to satisfy any appetite. From fine dining options to international cuisine, there is no shortage of options for those moving to Santa Clarita. Many of these restaurants even use fresh produce from the area and others make everything from scratch.
4. Film Production Area
If you like the idea of being around the rich and famous or observing film productions, numerous TV shows and movies have been filmed in Santa Clarita. It adds a touch of Hollywood to the area, without making the city as hectic as its neighbors in Los Angeles.
If you're a fan of shows like NCIS, you may recognize certain spots in Santa Clarita. Many scenes in their episodes have been filmed in the surrounding areas. If you're up for it, you could even be chosen to be cast as an extra while living in Santa Clarita.
5. Great Things to Do with Children
If you're a parent, you'll find plenty of things to do in Santa Clarita with your kids. Close to theme parks like Six Flags Magic Mountain and the Santa Clarita Aquatics Center, there is no shortage of places where you and your family can have a great time. Another positive about living in Santa Clarita is the low crime rate, making it a safe place to raise your little ones.
It's a family-oriented city with festivals and other events geared towards both parents and children. Moving to Santa Clarita will give you the peace of mind, knowing you're in a family friendly area.
6. Stable Housing Market
Like anywhere in the United States, the city of Santa Clarita's housing market has had its ups and downs. But if you're hoping to buy a home in one of the best neighborhoods in Santa Clarita, you'll be happy to know it's currently host to a stable market. While prices are higher than in some other states for what is being offered, it's a fair value for the area and perks that come with it.
If you're set on living in Santa Clarita, some research will help you find something in your price range. With the cost of living in Santa Clarita at only 2% higher than the average in California, it is much more affordable than a home in Los Angeles.
7. Reliable Public Transportation
If you're unable or don't enjoy driving yourself from place to place, Santa Clarita has reliable public transportation services. From the Commuter Express to the Dial-A-Ride services, there are several options available for all kinds of commuters. With such a well-organized transport system, it's easy to get to work, avoid traffic, and enjoy your free time.
If you have no interest in dealing with Los Angeles traffic, a move to Santa Clarita is a great alternative. There are three Metrolink stations in the city, so you can easily get to where you're going, no matter where you live. Of course, there are always the standard rideshare options like Uber and Lyft as well.
8. Beautiful Neighborhoods
Some cities are limited when it comes to the number of good neighborhoods. Fortunately, there are some beautiful options to choose from if you're planning on moving to Santa Clarita. You may also be wondering if Santa Clarita is safe? Yes, it is!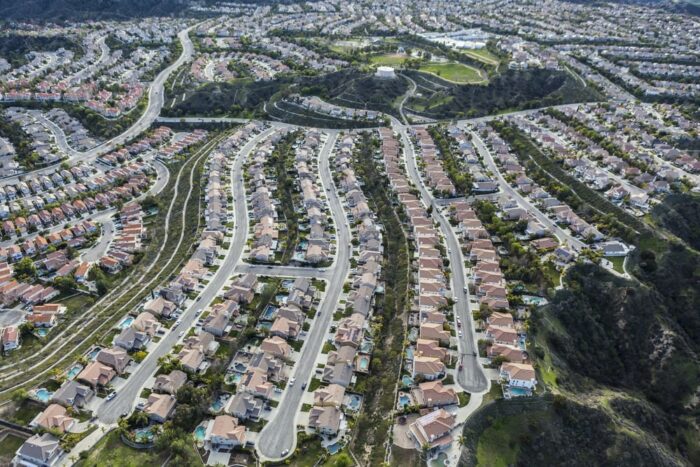 Some of the best neighborhoods for a comfortable and safe experience while living in Santa Clarita are Stevenson Ranch, Newhall, and Saugus. Be sure to check them all to see which is most suited to your lifestyle.
9. Strong School System
If you're a parent moving to Santa Clarita and you're curious about schools, you'll be happy to know that their schools are known for providing a great education. In fact, many of the elementary schools in the area have been recognized as Distinguished Schools in California in the last year.
Strong education is a focal point for schools in Santa Clarita. You can't go wrong with the options in this area, whether you're looking for elementary or high school programs.
10. Well-Maintained
One of the best things about living in Santa Clarita is how well-maintained the area is kept. What other cities in California may lack in maintenance, this area greatly surpasses expectations. Things like graffiti are rare in the first place but are cleaned almost immediately after showing up.
Constant reforestation projects help make Santa Clarita a beautiful, green city to live in. With the area's cost of living slightly above average, the city's cleanliness makes up for it big time.
Moving to Santa Clarita? Let Us Help!
If you are planning on moving to Santa Clarita, we can help you with the transition. At Osmon Moving & Storage, our professional team provides moving and storage services made to fit all your needs. Feel free to give us a call at (800) 807-6181 with any questions or if you'd like to schedule your move.
Learn more about how we can help.
For more information on this area see, Top 10 Things To Do in Santa Clarita